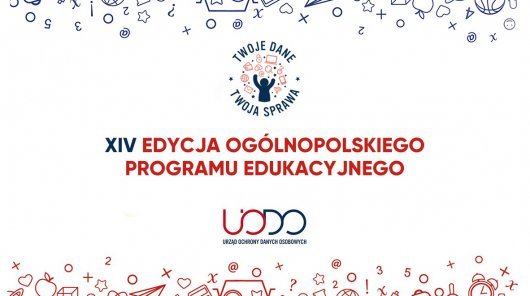 30.08.2023
On September 1 this year we start recruitment for the "Your data – Your concern" programme
The President of the Personal Data Protection Office invites schools and teachers vocational training centres to participate in the nationwide educational programme "Your data – Your concern". From 1 September to 30 November this year, educational institutions will be able to apply for participation in the fourteenth edition of this programme. This school year, the main theme of the programme will be the protection of personal data in social media and beyond.
– The main objective of the programme is to disseminate knowledge about the protection of personal data among students and teachers so that they consciously use the rights guaranteed by the GDPR, which is important in the era of rapid development of new technologies – said Anna Dudkowska, Director of the International Cooperation and Education.Department.
As in previous years, the Personal Data Protection Office (UODO) provides educational materials and specialised training to participants of the programme. Online lectures are also planned, during which UODO experts will discuss the most interesting and at the same time the most difficult interpretation issues in the field of personal data protection and privacy from the point of view of the school's activities. These activities will be a valuable source of knowledge for principals and teachers who will undertake educational initiatives.
– Initiatives undertaken by schools serve the school community in many fields. By participating in the programme, principals and teachers broaden their knowledge on how to properly process personal data, effectively counteract data breaches and better identify the risks associated with these tasks in an educational institution that involve the processing of personal data.  The programme helps students acquire knowledge, and thus also acquire skills that will facilitate their functioning not only in the school community, but also in the local environment, and in the future also in the professional environment – explained Anna Dudkowska.
We invite primary and secondary schools, as well as teacher's vocational training centres, to participate in the programme in the school year 2023/2024. The terms and conditions and detailed information on the upcoming edition of the programme are available on the website of the supervisory authority. Applications for the programme are accepted via the application form, which is available on the dedicated UODO platform (the form will be active from September 1).